Portland was the inspirational city for creating Bikabout. Bike no further than a few miles and you'll see why. The city is housed in the #1 bike tourism state of Oregon, it's arguably the brewery capital of America and we think it has the best food scene. Bikabout's travel guide will help you plan your #WanderbyBike experience in Portland.
Table of Contents:
+ Portland 101
About Portland
Walk Score: 65. Walk Score measures the walkability of any address based on the distance to nearby places and pedestrian friendliness.
Transit Score: 51. Transit Score measures how well a location is served by public transit based on the distance and type of nearby transit lines.

Bike Score: 72. Bike Score measures whether an area is good for biking based on bike lanes and trails, hills, road connectivity, and destinations.
Maps
Portland's bike reputation precedes it. The League of American Cyclists doesn't hand out a lot of Platinum Biking City ratings (4 total at last count), but Portland easily qualifies. Add to the mix a solid food scene, a wealth of unique neighborhoods, and more breweries than we knew what to do with, and you have the kind of biking destination that makes for easy press.
Moving beyond all the glowing articles and getting down to the business of actually biking Portland, however, we found that the distinction between it and Minneapolis, Montreal, or Vancouver is not always easy, at least concerning infrastructure. Depending on where you stay and where you go in each, it's more or less a toss-up which of those 4 cities has ultimately been more successful at making biking safer. All of them have scenic bike paths connecting far-flung places. All of them use "Bike Boulevards" to make certain (mostly residential) connector streets safer for bikes. All of them have the occasional soaring, majestic bike/pedestrian-only bridge to make you feel special. So don't think that Portland has some magical advantage over several other similarly bike-centric places in North America. Yes, it's nice to bike there, but it's honestly just as nice in several other places.
What Portland does have, however, is a bike identity. Seattle is "big business in the Pacific Northwest." Vancouver defines itself by its stunning surroundings, its Olympic heritage, and its avid sports scene. Montreal is the European-inspired historic jewel of Canada's east. Minneapolis is "just as good as Portland, but with tons of snow." But Portland defined itself early on with the bicycle, and bikes still permeate nearly everything there. Portland spawned the younger, black jeans, beard-and-beer-and-bikes crowd in a way that no other city has, to the point that Portland quickly became identified with biking in general. "Portland and bikes" is a co-branding exercise gone gangbusters. The bike was perhaps the most central, visible tool with which Portland became "Portland."
It's important to note that Portland is more than just seriously crafty beers, house-cured gourmet pickle/charcuterie plates, full sleeve tattoos, and staggering numbers of beards that wouldn't look out of place in a Ken Burns documentary about Appomattox ...(best t-shirt I saw there: "The Bearder The Better'). Those things are there in greater density than anywhere else, but there's plenty of regular folks, 15 IBU pilsner, and top-shelf food that isn't too trendy. At times Portland can be cartoonishly "bikey," but I'm glad someone is acting as the petri dish for the rest of the country. I'm glad that Portland has the cajones (and the political climate) to push the envelope farther and farther, to integrate bikes more and more into regular life for more kinds of people at all income levels.
One final note on the beer: I don't yet know what an over-saturated "peak beer" marketplace looks like, in which good brewers just can't make a living, but I have a feeling that Portland and its 150+ (and counting) breweries will find out before anyone else does. In the meantime, there's so much good beer there that you simply will not be able to sample it all. But it's fun to try.
+ Biking in Portland
Etiquette
People in Portland take their bike etiquette a little more seriously than in most places, so brush up on your hand signal skills. Politely announce when you're passing "on the left," and signal every upcoming turn, or incur some bearded wrath. Cyclists here were overwhelmingly polite and friendly, but it gets crowded out there, and making your intentions clear to other cyclists keeps everyone happy.
Safety
Portland has built just about all the infrastructure you could ask for, so danger from major car traffic is rarely a concern. There are, however, some lingering diagonal embedded train tracks across some streets, and they send even experienced riders to the emergency room with alarming frequency. Cross such train tracks at as close as you can get to a 90 degree angle, so your front wheel doesn't become suddenly lodged in the groove, throwing you instantly over the bars. If you have a lighter bike and are so inclined, you can also "bunny hop" the front wheel lightly over the tracks to help mitigate the risk.
Security
We never had much trouble finding legitimate places to securely lock up a bike, even a bakfiets. We believe the bike theft levels to be about what you'd expect for a major city with a thriving bike scene, which is to say that leaving a bike out on the street overnight is probably unwise without several high-quality locks securing both wheels and the frame.
Portland Culture
There's "bike culture," and then there's "Portland-level bike culture." Whatever you're doing on a bike in Portland, it will not surprise anyone. Biking 10 miles each way to work wouldn't raise an eyebrow. Putting our whole family onto one bakfiets cargo bike to go to dinner didn't even get us noticed. Portland is at that point where the simple act of riding your bike to do normal things is no longer considered exceptional, risky, or frankly even very interesting. Portlanders sometimes take bike culture to silly levels, but people do silly things in every city.

+ Best Bike Rides in Portland
These routes were curated by local Portlandians who wanted to share their #BestBikeRide with you. Print off the map for free!
Ambassadors Needed! If you live in Portland and love food, music, art or just being outdoors? Curate a route for us by inquiring here.
+ Bikes
Rentals
BIKE SHARE
SPINLISTER
RENTAL SHOPS
Tours
Other Shops
+ Eats, Drinks and Sights
7 places to...
EAT - Teote, Mi Mero Mole, El Pilon food cart, Bamboo Sushi, Toro Bravo, Tasty-n-Sons, Por Que No
DRINK - Hair of the Dog, Cascade Ale House, Breakside Brewery, Belmont Station, Clyde Common, Multnomah Whiskey Library, Upper Left Roasters
WANDER - Japanese & Rose Gardens, Eastbank Esplanade, Music Millennium, Bridges (Tilikum/Hawthorne/Morrison/Steel/Broadway), Alberta Arts District, Mississippi Neighborhood, Portland Museum of Art, Overlook Park
mobile apps
We curated these eating, drinking and sightseeing bucket lists for on-the-go exploring:
+ Transportation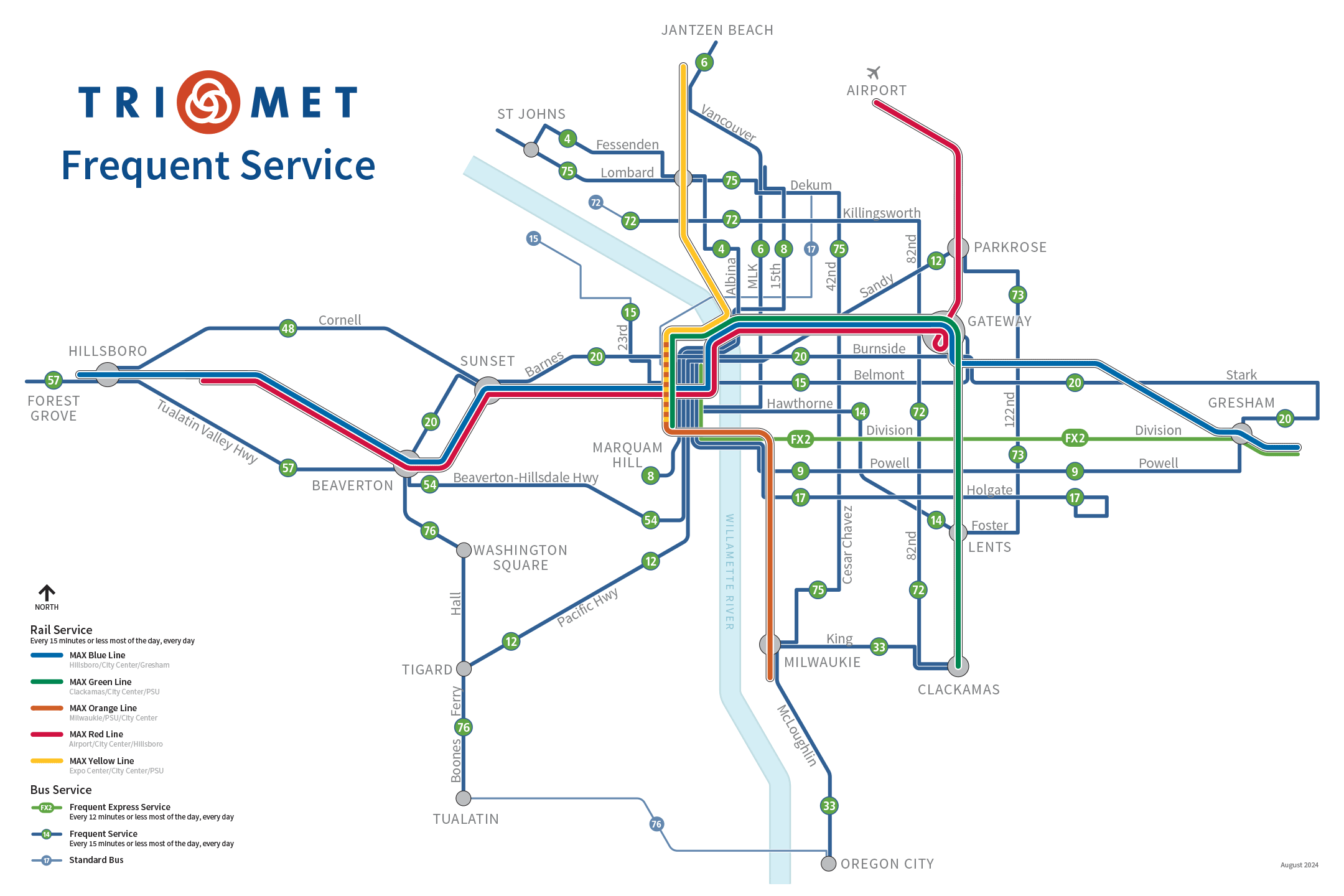 CITY TRANSIT
Tri-Met (Map) - $2.50 for 2.5 hours or $5 for 24 hours. "We make it easy to combine biking and transit. You can park your bike at the station or bring it with you on the bus or train (if there's room)."

Airport to Downtown - take MAX red line to Rose Quarter or Pioneer Square.

Portland Aerial Tram (Map) - $4.70 per adult, free for kids 6 and under. Bikes allowed on board and there is a Biketown station at the base of the tram.
TRAIN
Cascades (Vancouver, BC - Seattle - Tacoma - Portland - Salem - Eugene) - $5 roll-on service and reservation required

Coast Starlight (Seattle - Portland - Los Angeles) - $20 trainside checked service and reservation required

Empire Builder (Chicago - St. Paul/Minneapolis - Milwaukee - Spokane - Portland/Seattle) - $10 boxed bike service required for travel to and from Portland (Empire Builder to/from Seattle is trainside checked service)
buses & shuttles
AIRLINES
Bikabout donates 25% of annual revenue to local advocates. You, too, can power better biking in Portland by donating to The Street Trust!