Diversity and waterfront infrastructure combine to make Oakland a compelling place to bike, eat, and hang out. And with an all-too-quick ferry waiting to drop you off in Alameda and downtown San Francisco, you can easily use Oakland as a home base to explore as much of the Bay area as you have time for. Our travel guide offers all the resources for you to plan your #WanderbyBike experience in Oakland.
Table of Contents:
+ Oakland 101 (click to open)
About Oakland
Places for Bikes City Rating: 1.8 out of 5. Comprehensive and holistic rating on ridership, safety, network, reach and acceleration. Compare this score to Boulder's at 3.4.
Walk Score: 72. Walk Score measures the walkability of any address based on the distance to nearby places and pedestrian friendliness.
Transit Score: 56. Transit Score measures how well a location is served by public transit based on the distance and type of nearby transit lines.

Bike Score: 65. Bike Score measures whether an area is good for biking based on bike lanes and trails, hills, road connectivity, and destinations.
Maps
Oakland was indeed once covered in Oak trees, along with redwoods, until they were cut down to build San Francisco version 1.0. And from the moment it was incorporated as a city in 1852, Oakland immediately began its role as "more affordable place to live than San Francisco." It also began its political problems early, with the first mayor turning out to be a crooked lawyer who had back-room-dealed himself into rights over the whole port. Citizens found out, got angry, and ousted him in less than a year in office. Oakland also quickly settled into its role as Industrial Powerhouse, with railroads, telegraph lines, and ports landing here before anywhere else in northern California. Digging out its new shipping channels actually cut Alameda off from the mainland, creating the awesome little island we have today. The earthquake and fire of 1906 across the bay doubled Oakland's population as the newly homeless fled San Francisco. World War II had major impacts – good and bad – on industrial centers like Oakland, as wartime needs for machinery and canned food skyrocketed. A mandate from President Roosevelt to racially integrate these new workforces coerced millions of poor whites, blacks, and latinos to move west from the American south, looking for opportunities they couldn't find at home. And while jobs flourished, these newly arrived ethnic groups fought bitterly over them, establishing a severe racial tension that Oakland still deals with to some measure today. Industrial land use focus and drug-related violence problems of the past have certainly slowed gentrification, but they haven't stopped it. Oakland is vibrant, green, friendly, calm, and brilliantly diverse. Oakland in 2019 is still (compared to San Francisco, anyway) affordable and open enough for small startup businesses like breweries, roasters, restaurants, etc. to take chances here that they probably couldn't across the bay. 160 miles of bikeways and that awesome new waterfront bike path make getting around most of the city pretty awesome, as well. And the ferry to Alameda and San Francisco is easy, cheap, and actually a little too fast considering how great the view is. The main issue to look out for when biking in Oakland is the glass. There is more broken glass here, in more places, than we can recall seeing anywhere short of a recycling facility. Our bikes fared well, but we're also mostly rolling on Schwalbe Marathon tires (wouldn't say "nein" to a sponsorship, there, mein freunds). Stay in Oakland, hit the 4 breweries in Jack London Square, bike around awesome Lake Merritt, bike 7 miles north and grab some records at Amoeba, use the ferries to go to Almanac Brewery on Alameda, hit the museums and parks in San Francisco…you have too many choices, and they're all so easy.
+ Biking in Oakland (click to open)
Etiquette
We didn't see much to worry about here. Other people on bikes are everything from "takeout delivery dangling from the bars" to "earbud spandex dropbar commuter," and they all seemed pretty focused on what they were doing, not what we were doing. Use hand signals when you're turning, it's just common sense.
Safety
At no point did we feel anywhere near "unsafe", but do take care where you linger outside if it's late at night or very early in the morning. Some neighborhoods have people impaired one way or another who you would probably rather not interact with. The homeless population here seemed noweher near as prolific as Portland or Seattle, for reference, but some people still sleep on sidewalks and under overpasses, sometimes partially blocking the way.
Security
We've got several friends who have lived here for several years between them, who assure us Oakland is, unfortunately, a great place to get your bike stolen. One couple had a bike stolen mid-morning on a weekday outside yoga. It was u-locked, and it was a ~15 year old Specialized Sirrus flatbar road bike… not particularly sexy theft bait. Bring your -best- lock, try to sit where you can see your bike when you eat, and bring him/her inside at night, period, full stop.
Oakland Culture
Oakland has a pretty big car-free mode share, with tons of people opting to get around by bike or transit. And it really, really shows. You can feel it – biking here is quieter and calmer than a city that size might feel otherwise. On our last visit, we biked to and from Berkeley three times, much less around the waterfront and all over downtown, and never had a whiff of nervousness, no honking, no nothing. Take your time and signal your intentions, and you should be delighted with how easy and peaceful it is to bike here.
+ Best Bike Rides in Oakland
Ambassadors Needed! Live in Oakland and love food, music, art or just being outdoors? Curate a route for us by inquiring here.
+ Bikes (click to open)
Rentals
BIKE SHARE
RENTAL SHOPS
SPINLISTER
BIKE SHOPS
Tours
+ Eats, Drinks and Sights (click to open)
5 places to...
EAT - Little Giant Ice Cream, Dosa, Drakes Dealership, Lucky Duck Bicycle Cafe, Mariposa Baking Company
DRINK - Bicycle Coffee, Original Pattern Brewery, Blue Bottle Coffee, Telegraph Beer Garden, Faction Brewing, Almanac Barrel House
WANDER - Bay Bridge Bike Trail, San Francisco Bay Trail, Tilden Park, Lake Merritt and Astro Park Play Area, Children's Fairyland, Oakland Museum of California
mobile apps
We curated these eating, drinking and sightseeing bucket lists for on-the-go exploring:
+ Transportation (click to open)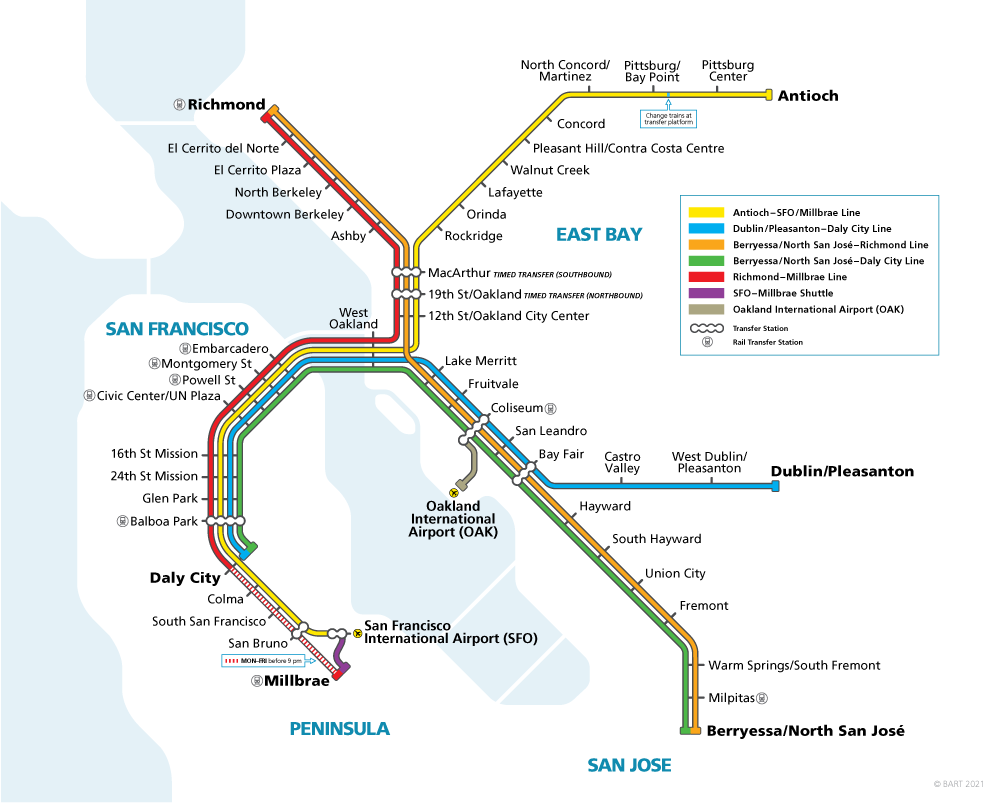 CITY TRANSIT
BART (Map) - $2-10 one-way. Get a Clipper Card for 50% discounts on youth, ages 5-18 years old via mail or by visiting Walgreens or Whole Foods. Bikes are welcome on 24 hours a day with exceptions like 1) not in a crowded car, 2 not on the 1st car, 3) not on the first 3 cars during rush hour. Please see all the rules here. Airport to Downtown - take the yellow line to Oakland for $9.50 one-way, a 45 minute ride.
FERRY
TRAIN
cars
AIRLINES
Bikabout donates 25% of annual revenue to local advocates. You, too, can power better biking in Oakland by donating to Bike East Bay!