Badger Pride Ride in Madison
City Tour, 10 Miles
+ Overview
Want to experience first-hand the impact UW-Madison's largest volunteer program is making in Madison communities?
Learn six ways UW-Madison's Badger Volunteers are working with community organizations to make a difference, while biking 10 miles around Madison's lakes, city skylines, and through local wilderness.
ABOUT THE CURATOR
Badger Volunteers, Morgridge Center Badger Volunteers is a semester-long program that pairs teams of students with community organizations (schools, nonprofits, municipalities) to volunteer 1-4 hours each week at the same organization. The program is designed to foster meaningful and consistent connections between community partners and students over the course of an entire semester. Badger Volunteers provides logistical support, transportation, training and education sessions for student volunteers in the program.
+ Map & Logistics
PRINTABLE MAP
VOICE NAVIGATION
Download the RideWithGPS app to experience this route with voice navigation.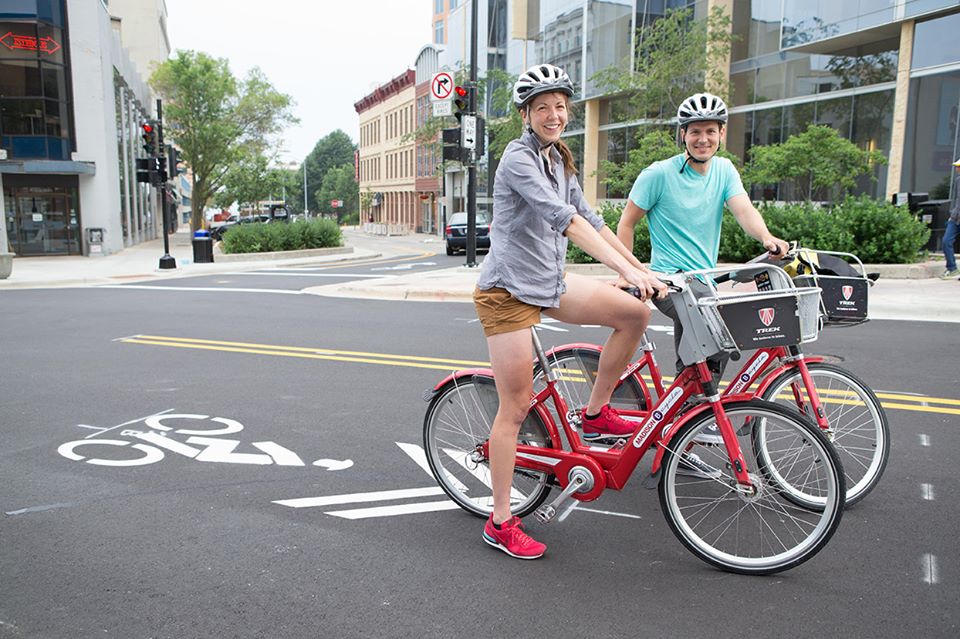 BIKE RENTALS
Madison Bcycle - $6 daily pass for upright city bike with lights, basket, fenders and chain guard
WHAT TO BRING? Water bottle to refill, cash for food stops
+ Highlights
A. RED GYM 716 Langdon Street | morgridge.wisc.edu | (608)263-2432 Once called the "front doors to the university," the University of Wisconsin-Madison Armory-Gymnasium, or "Red Gym," is an ideal first step towards understanding what makes the Wisconsin Idea. As soon as you enter through its original, fabled wooden doors, you are greeted with the entrance to the Morgridge Center for Public Service - an organization proud to say it connects campus to the community through service and learning. One of the center's major service initiatives is the Badger Volunteers program, which recruits over 700 students every semester to partner with local organizations in the areas of Education, Sustainability, and Public Health. Through these important relationships in service and learning, the city of Madison unfolds. M-F 8:30-5
B. DISCOVERY BUILDING 330 North Orchard Street | discovery.wisc.edu | (608) 316-4300 Known and beloved by students and researchers alike as simply "Discovery," this building houses the private Morgridge Institute for Research as well as the public Wisconsin Institute for Discovery, both of which are internationally renowned for the quality of their research as well as their outreach programs to inspire the next generations of scientific minds. Each semester, several teams of Badger Volunteers work with the institutes to help lead after-school expeditions, field trips, and "Summer Science" courses for area children each week, working amongst live indoor tropical gardens, water walls, and Fibonacci chimes. M-F 7AM-10PM / Sat 9AM-10PM
C. LAKE WINGRA 824 Knickerbocker Street | www.lakewingra.org Though it may be the smallest of the five major lakes of Dane County, Lake Wingra is one of the most popular for fishing (especially of the state fish, the Muskellunge!), boating, and swimming throughout the hot Madison summers. Throughout the year, Badger Volunteers partner with the Friends of Lake Wingra to support outreach for the lake watershed management plan, maintain rain gardens and other stormwater projects in the community, and develop sustainable initiatives for the city to keep Wingra's waters clear and blue! 7 Days 4am-10pm
D. UW ARBORETUM 1207 Seminole Hwy | arboretum.wisc.edu | (608) 263-7888 At 1,260 acres first carved from the land by the Civilian Conservation Corps, the Arboretum is the hub for restoration ecology, horticulture, and grasslands research on campus. Here, Badger Volunteers help weed, mulch, and plant for various restoration and educational projects while learning botany and horticulture from Arboretum staff, who have made community engagement and environmental education a priority in their projects. M-F 9:30am-4pm / Sa-Su 12:30-4pm
E. HENRY VIILAS ZOO 702 S Randall Ave | www.vilaszoo.org | (608) 258-9490 The Henry Vilas Zoo is a must-go for any Madison resident, no matter what age or walk of life. It is entirely admission-free and community-supported by way of outreach events such as "Be a Kid Again" and "Strings and the Wild Things". Our Badger Volunteers help support the zoo's outreach, education and conservation efforts by helping to greet visitors, running attractions like the carousel and train ride, and hosting summer camp sessions alongside staff. 7 days 9:30am-5pm
F. MEMORIAL UNION 702 S Randall Ave | union.wisc.edu | (608) 265-3000 Your last stop is the cultural heart of UW-Madison, the Memorial Union, which overlooks Lake Mendota. Dip your feet in the lake, where our Badger Volunteers partner with the Clean Lakes Alliance on water quality monitoring, storm drain stamping, and lakeshore cleanup projects. Take a stroll through the historic Union, and enjoy a scoop of ice cream on the Union Terrace! M-W 7am-Midnight / TH-F 7am-1pm / SA 8am-1pm / SU 8am-12pm
+ Eats & Drinks
1. PIZZA BRUTTA | 1805 Monroe St | www.pizzabrutta.com | 608-257-2120 Share a pie (or grab your own!) of Pizza Brutta's famous margherita pizza. Or, head across the street to Trader Joe's to grab some snacks for a picnic on the lake. 7 days, 11am-9pm
2. MICHAEL'S FROZEN CUSTARD | 2531 Monroe St | www.ilovemichaels.com | 608-231-3500 Cool off with a lick from Michael's Frozen Custard before making your way into the Arboretum. M-F 10:30am-10:30pm / Sa 10am-11pm / Su 10am-10:30pm
3. GLACIER GRILL | 702 S Randall Ave | http://www.vilaszoo.org/ | 608-258-9490 Grab a bite to eat in the zoo at the Glacier Grill, the US's only restaurant designed to look like a polar bear exhibit. 7 days 9:30am-5pm
4. DAILY SCOOP | 800 Langdon St | union.wisc.edu | 608-265-3000 Celebrate your ride by tasting Madison's favorite ice cream: Babcock ice cream! This delicious treat is made right here on campus in partnership with UW's dairy science and food science program. Some interesting flavor favorites are orange chocolate chip and banana peanut butter. 7 days, 8 am-11pm