"California, Here We Come"*
Weekend Getaway, 4-8 miles per day
Imitation is the Best Form of Flattery
I've been an Airbnb host for 8 years and received their magazine's article, "California, Here we Come," when our family had just returned from 4 blissful days in Santa Monica. Candice, the author, had captured our trip and made some great recommendations for a family beach getaway, and thus, I had to steal some of it to be adapted as one of our Best Bike Rides!
Her recommendations were the primary inspiration for stitching together a series of family friendly bike routes in Santa Monica and Venice, but we couldn't use them all due to the lack of safe biking infrastructure and wanting to keep the rides shorter. - Megan Ramey, founder of Bikabout.com
This route is an adaptation of California, Here We Come, originally published by Airbnb Mag in the Spring of 2018:
"Every trip I've ever taken to Los Angeles has been filed under 'adult time' until I took my 5-year-old to Venice Beach. We ate in restaurants serving Cali-minded food so delicious, she didn't once ask for chicken fingers. We picked up souvenirs in smartly edited shops, spent mornings at the beach, and reveled in legit nature walks. L.A.'s rebirth as a town with an actual, you know soul, has been well documented. What's lesser known: it's made for a kid-friendly getaway....Here's how to actualize your beach-culture-food fantasy weekend with your brood."
Itinerary and Biking Distance
This itinerary was designed as a weekend getaway, with routes for Friday, Saturday and Sunday, ranging in 4-8 miles, a nice distance for biking families.
+ Map & Logistics
BIKES
BIKE SHARE
Breeze- various locations - 12 cents per minute for upright city bike with basket and lights
RENTALS
Santa Monica Bike Center - $20+ for 2 hours or more for comfort, city, road, tandem, electric, cargo, kid's bikes, kid's trailer bikes or kid's seats. Helmet and lock included in rental.
WHAT TO BRING? Bike bag or basket for shopping, money for food and drink and a camera for great beach scenery.
To open this is Google Maps on your phone:
Click the star ★ on the map above

Launch Google Maps on your phone

Menu to "Your Places"

Click "2.5 Days by bike in Santa Monica: "California, Here We Come"
To open this in Ride with GPS on you phone:
Download the RideWithGPS app

Launch app

Menu to "search routes" for New York

When you find "2.5 Days by bike...", click 3 dots and select, "Ride This"
+ Highlights
A. VENICE BEACH SKATEPARK
Be prepared to have your family be mesmerized by the talent of local skaters.
B. SEA SHORE MOTEL | 2637 Main St, Santa Monica | seashoremotel.com | 310-392-2787
Family friendly 50s motel in a bike friendly hood.
C. VENICE CANALS
"Spend an hour (or three) along the canals, where kids can run around the pedestrian bridges and check out the ducks, and you can hold back tears of envy as you gawk at the idyllic beach house..." suggests Antonia Lofaso, a mom and the chef at Venice mainstay Scopa Italian Roots.
D. ORIGINAL MUSCLE BEACH | Santa Monica
An adult playground that, on first sight, expect your kids to go crazy. Try the traveling rings!
E. ANNENBERG COMMUNITY BEACHHOUSE | 415 Pacific Coast Hwy, Santa Monica | annenbergbeachhouse.com | 310-458-4904
"..where there's plenty to keep kids busy: a pool, a toddler splash pad, and volleyball nets."
+ Eats / Drinks / Shops
1. SANTA MONICA BIKE CENTER | 382 Broadway, Santa Monica | smbikecenter.com | 310-656-8500
Start your weekend with fun, family mobility and rent a tandem, box bike, long tail, bike outfitted with a child seat or kid's bike from this amazingly family friendly bike shop.
2. SIDECAR DOUGHTNUTS & COFFEE | 631 Wilshire Blvd, Santa Monica | sidecardoughnuts.com | 310-587-0022
Because it's Friday afternoon and there may not be a line.
3. MAUI & SONS SURF AND SKATE SHOP | 1415 Ocean Front Walk, Venice | mauiandsonsretail.com | 310-392-6284
"Skateboard fanatics (or anyone who appreciates that Southern Cali Dogtown vibe) should head to Maui and Sons, a beachside skate-and-surf general store. The approachable staff offers lessons in Venice's famous skate park and makes it a lot less intimidating to enter the pit."
4. CLUTCH | 427 Lincoln Blvd, Venice | clutchcalimex.com | 310-396-8749
"...a Cali-Mexican roadhouse with memorable tacos and a michelada that's beyond. 'They also have a great vibe and a good burger,' says father of two Josiah Citrin, a two-star Michelin chef and owner of Santa Monica's Melisse."
5. ROSE CAFE | 220 Rose Ave, Venice | rosecafevenice.com | 310-399-0711
Get your brunch on and "Snag a table on the patio at Rose Cafe, a restaurant bustling enough to mufffle the outdoor voices the kids are still using."
6. AVIATOR NATION | 1224 Abbot Kinney Blvd, Venice | aviatornation.com | 310-396-9100
"Go to Abbot Kinney Boulevard where some of the obsessively curated stores include playroom fixtures as decor. At Aviator Nation, you can peruse the preposterously soft hoodies while your crew knocks around on the Ping-Pong table or scores tatoos from the vending machine."
7. BURRO | 1409 Abbot Kinney Blvd, Venice | burrogoods.com | 310-450-6288
"Both kids and grown-ups are bound to get sucked in by the excellent book selection at Burro. When you're done, bribe the kids with a 'flight' of scoops from SALT & STRAW."
7.2. SALT & STRAW | 1357 Abbot Kinney Blvd, Venice | saltandstraw.com | 310-310-8429
8. LIBRARY ALEHOUSE | 2911 Main St, Santa Monica | libraryalehouse.com | 310-314-4855
For parents who want to enjoy a beer in a restaurant with ambient noise, serving food that the whole family will love.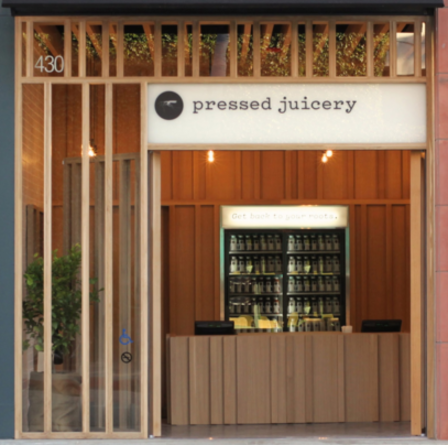 9. PRESSED JUICERY | 409 Main St, Santa Monica | pressedjuicery.com | 424-280-4238
Get your first breakfast on with nectar that is good for the body and soul.
10. BACK ON THE BEACH | 445 Pacific Coast Hwy, Santa Monica | backonthebeachcafe.com | 310-393-8282
I'm not sure if there's anything better than eating eggs benedict barefoot on the beach.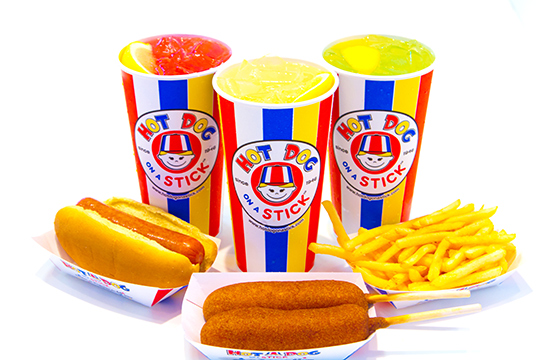 11. HOT DOG ON A STICK | 1633 Ocean Front Walk, Santa Monica | hotdogonastick.com | 310-395-4673
"...cruise down the by bike, then make a corndog-and-lemonade stop" , suggests Antonia Lofaso, a mom and the chef at Venice mainstay Scopa Italian Roots.